Party Venue Copenhagen on Vesterbrogade
Party Venue Copenhagen? Have a private party in Copenhagen with our "Do it yourself" party, where you are responsible for the decorations, food and drink yourself and just need an inspiring and cozy room.
Republikken is the perfect place for a cozy party in inspiring surroundings – on Vesterbrogade, just 7 minutes' walk from Copenhagen Central Station.
The event venue is 200 m2, and have space for either 65 seated or 130 standing guests – and we have several different possible table settings. There is of course also space for a dance floor and disco ball.
The do-it-yourself concept is best suited for birthdays, christenings, confirmations or weddings. The event venue is a coworking space on a daily basis, which provides unique and charming surroundings.
The event venue can be rented on Friday evenings from 17.30 or Saturday and Sunday from 12.00, but at the weekend it is possible to get access to preparation before this. You agree this with your contact person, who helps to ensure your perfect party.
Do-it-yourself concept
Republikken ensures that all equipment is turned on and functional and cleaning of floors and toilets when the party is over. In addition, music system, disco ball, bar fridge, WiFi, wardrobe, storage before and after, and hot plate to keep your catering warm.
You take care of everything else yourself; setup, decoration, clean-up and any servants. This means that you have to pay for drinks and food from outside yourself, as our kitchen is only for heating, not cooking.
Supervisor who guides you in the use of the premises and equipment or if other challenges arise. The supervisor helps with practical things such as setting up and taking down the table on the day itself – but is not a waiter, bartender, cleaner etc.
Only 7 minutes from Central Station
Prices:
Friday 17.30-02.00 – 12.500 DKK (incl. VAT)
Saturday and Holidays, 9 hours between 12.00-02.00 – 13.500 DKK (incl. VAT)
Sunday 12.00-21.00 – 7.500 DKK (incl. VAT)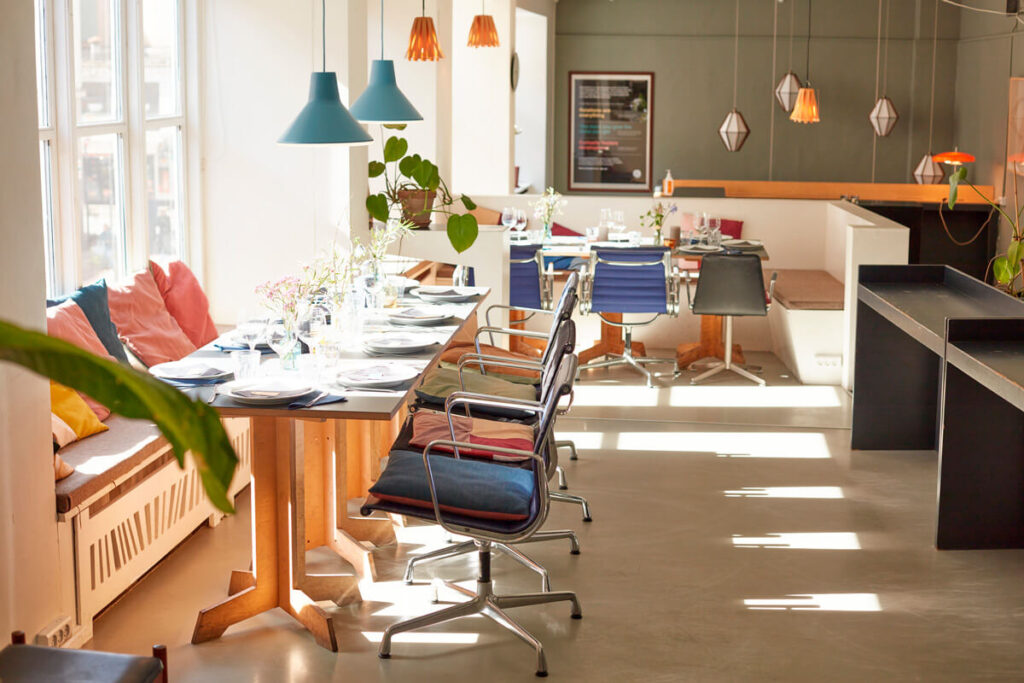 Guided
tour
Get a 30 min. tour of our event venue, and feel the vibe.
Check availability
See if your date is available in our event calendar.
Calculate price
Get an instant price on rent and your chosen add-ons.
Questions
answered
Read our FAQ, with information about all the details.